Here are photos of the fodder growth, I split the 10oz of seeds into 2 1 gallon ice cream tubs. Hopefully that will allow just the right amount of room for them to grow.  The seeds were layered roughly 1/2 inch deep in the tub. I had drilled 1/8 inch holes all over the bottom of the tubs for drainage.
Day 2

Day 3

Day 4

Half way through, hopefully they grow more the next 4 days than they have the last 4 days. The ulitmate goal is for the fodder to weigh 8 times as much as the seed, thus turning a 50 lb bag of grain into 400 lbs of feed. Usually 50 lbs feeds my flock for 3 to 4 weeks as they mostly eat grain. However with all the weeds we have been feeding them and they have been grazing on they are slowing down a bit on the grain. But with a good fodder system 50 lbs will feed for 6 months or more, cutting way down on the cost of feeding these eating machines.
10 oz barley and 1 qt water. Soaking for 8 hours. I bought the raw, unprocessed (and only partially de-hulled) barley at the feed store for 18 bucks. Now to watch what happens.
Christmas is when I get to work making presents. This year I had a request. A cake pop stand.  Here is the finished product.
Its made entirely out of melamine mdf. Easy to clean and no finishing required! Just don't look too closely at the edges.
Hope she likes it, she needs it for a party tonight and its been done for about 10 minutes.
I made my first wreath last night.  I went to Joann and bought a couple of these wreath frames and some wire.
While we were in Utah for Thanksgiving we went and cut down a tree in the forest, and we cut some pinion and juniper boughs as well.
With these I made two wreaths, one with a pine base and added junipers. The other with a juniper base and added pine.  I think the pine base looks like a typical wreath, the juniper base makes it hang out a little more, and give it more of a cottage wreath look.  I like both of them.  My neighbor made a bow for me out of some old ribbon we had laying around.  It looks really nice, I'll add a photo of it when I get around to it.
Besides the AWESOME gifts I got this year, I had a great time making a few gifts.  Two of them were wooden logic puzzles.  The first one, a 'Soma Cube', was discovered by Piet Hein in the mid 1930's.  There are exactly 240 unique arrangements of the seven pieces to form a cube.  I made this puzzle out of aromatic cedar.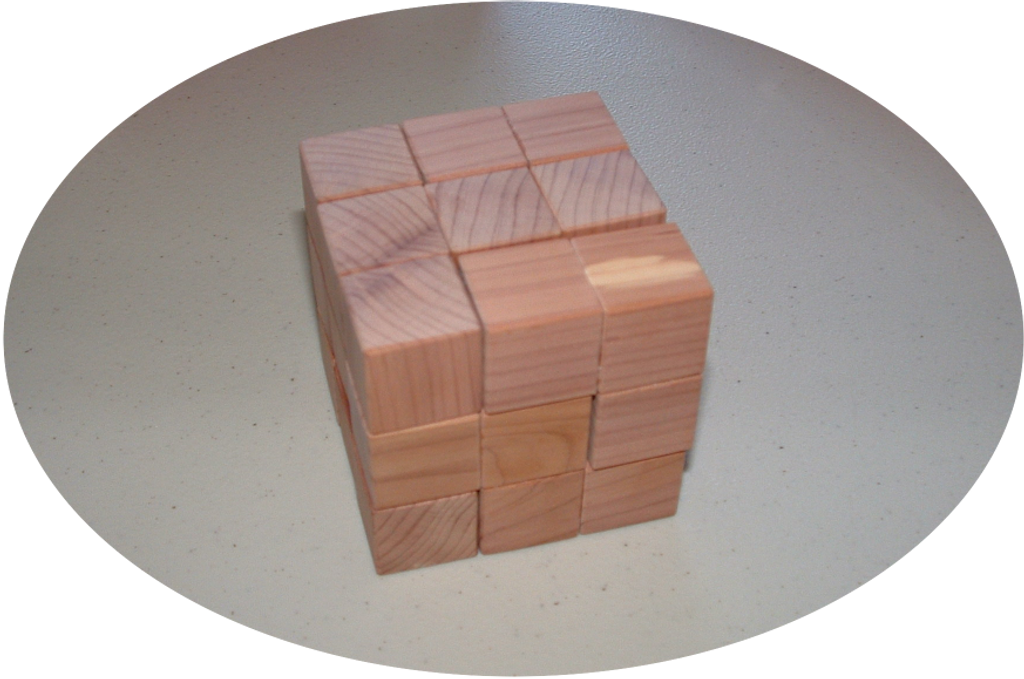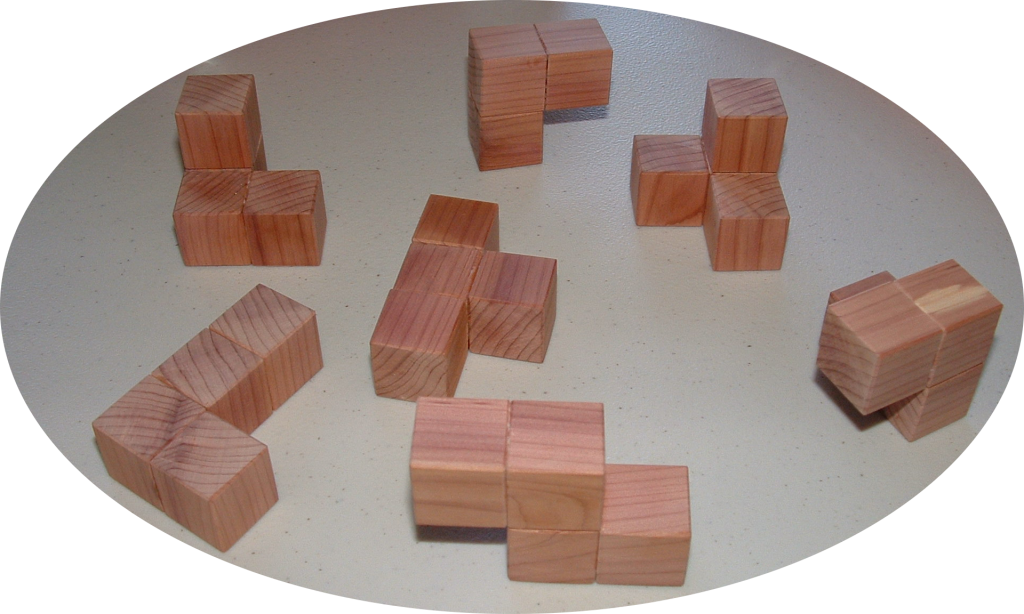 The second puzzle is the 'Half-hour Puzzle', created by puzzle-master Stewart Coffin.  This puzzle is slightly harder than the Soma Cube with only 1 solution for the 6 pieces.  I made this puzzle out of cocobolo.
I got the plans and instructions on how to make these from this book that Laurie gave me a few years ago for Christmas.
These turned out well, and I learned a few tricks to speed up the process.  The best part is that the recipient of the first puzzle wasn't able to put it down all day.