Today you are 20 years old.  We have become good friends since I met you 12 years ago. You have grown quite a bit and are quite capable now, and I have grown to understand you quite well.  You have been a much better friend than Microsoft as you don't hide things from me, and you serve me just how I need you to. You let me tell you what I need you to do and you do it.  Microsoft asks me what what to do but doesn't do it how I request.  So I left him behind in favor of better company.  You keep me safe from the malevolent youths of our era, and keep viruses and spies away from my family.  You even keep my wife's friend Microsoft safe, safe from himself sometimes.  I'm not too fond of him but she is, so I tolerate him to the best of my ability, thank you for working with him even when he doesn't want to work with you.  So you know I do have to give him the boot every day, or he becomes unable to function, I'd rather not do it, he is slow to go down and slow to get back up and I feel like it is a daily waste of time.  If I don't monitor him while he gets back up sometimes he falters and is still down when I come calling.  Perhaps being slow and stupid is part of his upbringing.  I don't think I have ever had to give you the boot except when I have had to move you, and you always have come back quickly.  For your kind and faithful service I thank you.
Your Friend,
Server Admin
Besides the AWESOME gifts I got this year, I had a great time making a few gifts.  Two of them were wooden logic puzzles.  The first one, a 'Soma Cube', was discovered by Piet Hein in the mid 1930's.  There are exactly 240 unique arrangements of the seven pieces to form a cube.  I made this puzzle out of aromatic cedar.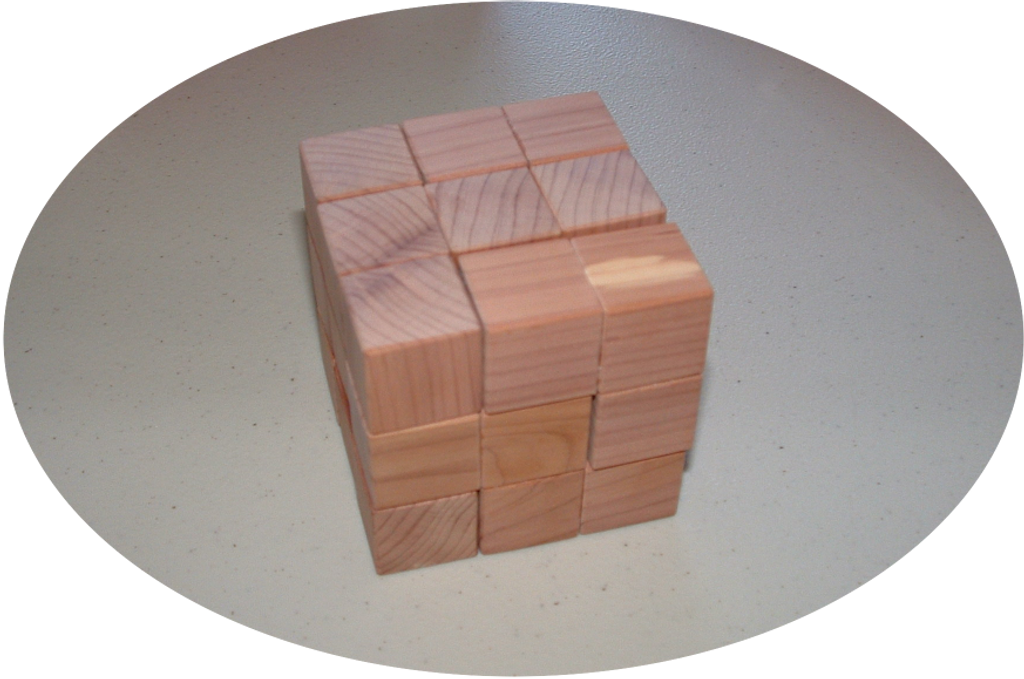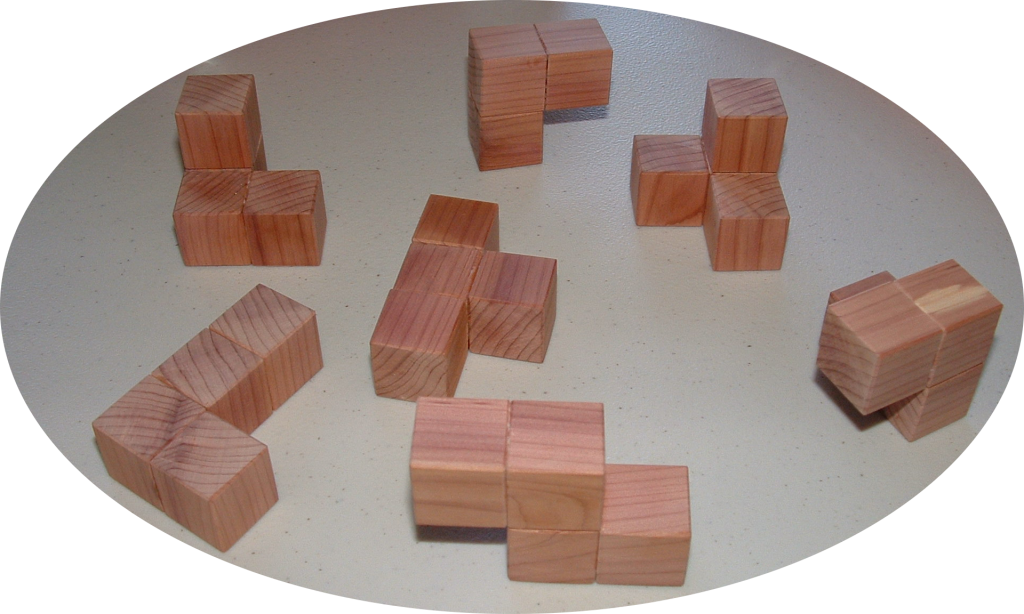 The second puzzle is the 'Half-hour Puzzle', created by puzzle-master Stewart Coffin.  This puzzle is slightly harder than the Soma Cube with only 1 solution for the 6 pieces.  I made this puzzle out of cocobolo.
I got the plans and instructions on how to make these from this book that Laurie gave me a few years ago for Christmas.
These turned out well, and I learned a few tricks to speed up the process.  The best part is that the recipient of the first puzzle wasn't able to put it down all day.
Jon and I went camping last December.  That was an insane trip.  A couple of weeks ago we decided to attempt another trip.  This time we planned on going to Mt. Graham, but had a backup if the weather was bad.  The weather forecast for Mt. Graham sounded like our last trip so we decided to go to Haigler Creek.  We camped at the developed campground at Haigler Canyon.  You can camp free most anywhere, but at the developed campground you have a bathroom, bear proof trash can, and a nice prepared tent location with a picnic table and a fire pit/grill.
I really prefer this type of camping.  Especially when the trip involves a little fishing as well.  We chose Haigler Creek based on an account that the forest service stocks prize fish into the creek as an attempt to lure fisherman away from the crowded creeks into the less occupied areas.  My first attempt to catch one of these prize fish didn't turn out too well.
After not catching anything I set about looking for a better place to fish.  I didn't find a good fishing hole, but I did encounter some wild blackberries.  I ate a few and then picked a couple handfuls to have with breakfast. They tasted very good on the pancakes.
After breakfast we packed up our stuff and headed out to fish for a few hours before leaving.  We were more dedicated this time and found a few good spots to fish.  I got a couple of bites and then landed a small rainbow trout.
We found an even better place to fish.  I caught a fish and just as it's mouth touched the air it wiggled free.  Jon caught what we believe to be the same fish.  The fish freed itself in the same way it did for me.  It must have a skill for getting loose.
One of the best parts about going camping is the opportunity to see the wildlife.  The butterfly below was a fun find.  Even more fun was discussing the creature causing the footprint just to the upper right of the butterfly.  A skunk was the final consensus, but perhaps we were wrong.  Any ideas?
What in the world is the plant in the two last photos? It looks like a cross between a squash, okra, and cotton.
I have always been opposed to the social networking sites.  If I want to talk to my friends I can email or IM them.  I have never needed a prefab website because I've had my own since the late '90s.  Not to mention all the problems with myspace.  I remember when facebook first came out.  It was limited to specific groups of people, university students, if I recall correctly.  It was designed to only allow your friends in real life to see your profile, yada, yada, yada.  It was better than myspace I thought, but if only your friends can see your profile then why can't you just tell your friends what you're up to? Why would anyone need a social networking site?
About a year ago I started having the feeling that I needed to get in touch with some old friends.  See how they were doing, and reconnect.  These weren't just run of the mill friends.  These were my best friends who I had lost contact with. Time and semi-frequent relocations tends to do that.  There are two in particular who I have felt I needed to get into contact with.  I started scouring the internet.  Nothing. After a while I found one of them in a local newspaper, perhaps a BYU Idaho paper.  His name was in the caption of a photo of a local band.  He was playing the drums.  That was the only thing I could find.  I couldn't even find his email address from BYU's directory.  The other friend has all but dissappeared.
A couple weeks ago a friend invited me to join facebook, it was one of those form letters, you know where everyone in that persons address book is invited;  personal spam.  I haven't ever accepted any of her invitations before, why would I now?  I ignored it for a few days, even deleted the email.  It kept pestering me. I kept getting the feeling that I should do it.  I even ran across an old journal entry of mine where I talked about how I wished I would always follow that little voice.  Talk about prodding.  I pretty much had to do it.  So I found the email in the trash, and accepted the invitation.
During the application process that ensued I was asked about my entire life, the high schools I went to, where I went to college, where I work, where I live, where I go to church, the whole nine yards.  Little did I know that it would use all this information to find my real life friends.  It is a little scary how accurate it is.  After I filled out the application it popped up a list of names and said you might know these people.  The first person on the list was James Speirs, one of my best friends.  One of the few people I've kept in touch with through a mission, college, and marriage.  That's cool I thought.  The remainder of the entire first page was people I knew.  Some of them are friends, some I wouldn't be caught dead with, I guess facebook can't know everything.
After choosing some friends I sent them a friendship invitation, where they accept that they know me and are my friends.  After a few days I had a couple people ask to be my friends.  A couple I didn't know, it must be popular to have tons of 'friends', whether you know the people or not.
Anyway after a day or so it asked if I knew Nathan Hope, since we both are LDS and went to Temecula Valley High.  Nate was one of my best friends when I lived there, in fact Nate was the one playing the drums in that band in Idaho.  I'm glad I followed that nagging feeling.  We've sent a few emails back and forth, and it's nice to re-connect with someone you were good friends with and haven't seen for 15 years.
As for Josh Corrington, I still haven't found him.  I drove by his dad's house when I was working in the area, but it's gone, and a subdivision now sits where their orchard was.   Hopefully he'll have that nagging feeling to join facebook.
In the mean time I'll be wating for a message that says "you may be friends with Joshua Corrington"…
and for James to acknowledge that we're friends.